Welcome to Project Finance International

Metropolitan Solutions – Municipal Finance Conference
As in previous years Project Finance International was mandated to structure and moderate the Municipal Finance Conference during Metropolitan Solutions on 31st of May 2016.
Metropolitan Solutions was organised through the International Network of Cities ICLEI and Deutsche Messe AG Hannover.
The Metropolitan Solutions Finance conference was the forum for public sector policy makers, utility managers, financial institutions, solution provider from industry and research .
The program covered issues central to state and municipal finance and provides all stakeholders with information needed to evaluate opportunities in the municipal finance market.
Rapid urbanisation during the last decades has often overstretched municipal authorities in the metropolises and megacities of  The Americas, Asia, Africa and Europe.
However, a stable infrastructure is essential for a liveable city.
With aging infrastructure, what are the non-traditional borrowing options local governments might consider?
In today`s environment more and more distressed municipalities across the world face  financial challenges.
Traditionally urban infrastructure has generally been financed through budgetary allocations from the public sector.
However, with public funds falling short of urban sector's investment requirements, city governments all over the world have looked for alternative private sources of financing.
The current public finance landscape is changing – the Metropolitan Solutions Conference was designed to help to meet these challenges.
The attached report has captured the many interesting and inspiring discussions in Berlin. You can also download the conference reports from our ICLEI@Metropolitan Solutions 2016 website: www.metropolitansolutions.iclei.org/conferences/
Project Finance International organizes Metropolitan Solutions for the Hannover Fair 2014
The majority of the world's population today lives in cities and conurbations, and the proportion of city-dwellers will continue to increase rapidly. But many of our cities can no longer accommodate the demands of their inhabitants – and that situation is only going to get worse in future unless our urban infrastructure is systematically expanded, upgraded and made safer and more reliable. There are two major challenges to be confronted. Firstly, in order to ensure that urban populations can live together in harmony, their infrastructure needs to be safe, secure and reliable. And secondly, the people who plan and design this infrastructure must live up to their regional and global responsibilities.
Metropolitan Solutions is the largest international platform presenting cross-industry technological solutions for urban infrastructures. Exhibitors showcase intelligent solution ideas for the urban challenges of the present and the future.
These are technologies that deal with energy, water and wastewater as well as mobility and building infrastructures in cities.
Visit the Metropolitan Solutions in Hall 26 to learn about beacon projects that show the way forward in visionary urban development and the successful implementation of pioneering solutions. Take a close-up look at a wide range of bestpractice
case studies featuring the latest technologies and discuss the individual projects with the relevant experts.
Metropolitan Solutions Forum features an all-day program of keynote talks, technical presentations and panel discussions. The Forum's lineup of high-caliber speakers offers information and advice in a wide range of areas, including technology, project
planning and financing – basically everything you need to know about the challenges confronting today's urban infrastructure and the latest solutions available to meet them.
International experts discuss the city of the future on all five days of the show. One particular question being explored is whether a productive discourse is possible between the large, older cities in the traditional industrialized countries, and the exploding cities in the emerging and developing countries.
Financing is the overarching topic in the Forum. This is the reason why experts from the World Bank, KfW Banking Group and European Investmentbank participate during the 5 days conference.
The European Commission serves as official patron to Metropolitan Solutions.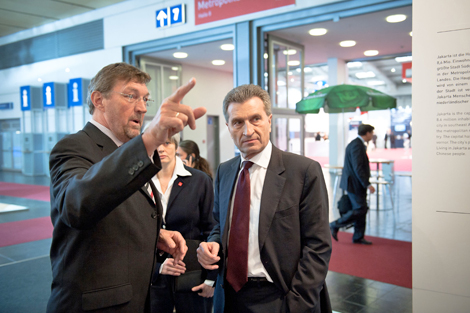 Dr. Richter welcomes Commissioner  Günther Oettinger at the Hannover Fair 2011.
On behalf of Hanover Fair 2011 Project Finance International developed the concept
for the new thematic park Metropolitan Solutions.
The newly created display category "Metropolitan Solutions" was a major highlight at HANNOVER MESSE 2011. The spotlight here focused on smart solutions and technologies for urban infrastructures – with special reference to energy, water/wastewater, buildings and mobility.
Metropolitan Solutions was designed in three sections, each to fulfill differing information requirements. The Exhibition was a showcase for total solutions, subsystems and components for tomorrow's cities. It was augmented by a high-calibre Forum, which was centered on the latest ideas and know-how (including questions of finance).
The forum was solely designed, organized and moderated through Dr. Joachim Richter. Keynote speeches, specialist talks and panel discussions were an integral part of the new exhibition. The forum program, with its line-up of high-calibre speakers, combined technology, planning and financial expertise from international players.
Large International Finance Institutions like KfW Entwicklungsbank, The World Bank Group and European Investment Bank presented best practices in the field of finance to solve the problems of megacities
Metropolitan Solutions was opened through EU Commissioner Hahn and Secretary of State Mr. Homann, representing the Federal Ministry for Economy.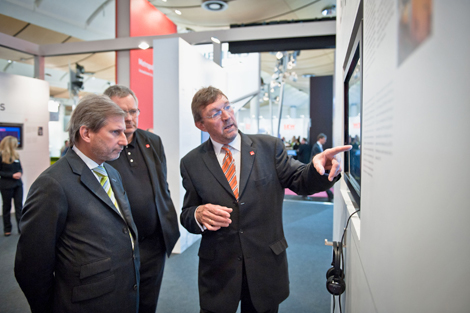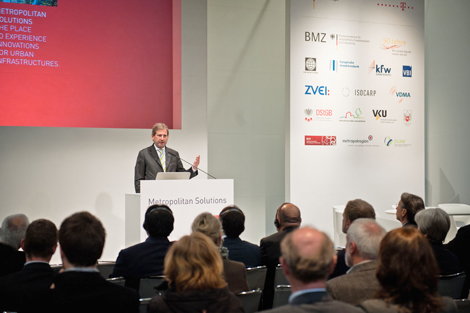 Dr. Joachim Richter explained to special guest EU Commissioner Günter Oettinger  the latest energy efficiency solutions for urban structures and megacities.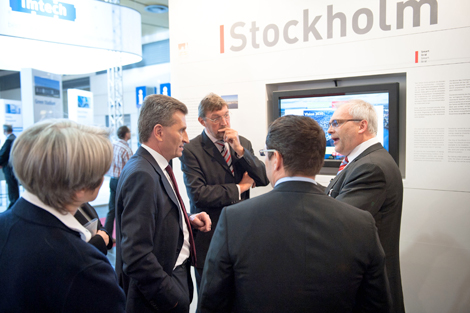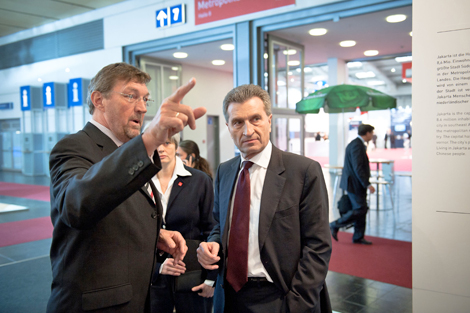 TV Interview with Dr. Joachim Richter about the Africa politics for G8 states
Click the "Play" Symbol to watch the video.
German N-TV (News-Station) from May 21st, 2007, 1:00 p.m.
Project Finance International at the German-Russian middle class conference
Der Ost-Ausschuss der Deutschen Wirtschaft, der Unternehmensverband "Delowaja Rossija" und die Delegation der Deutschen Wirtschaft in der Russischen Föderation, hochrangig unterstützt durch Vertreter der deutschen und russischen Politik, organisierten gemeinsam die Konferenz "Neue Perspektiven der Deutsch-Russischen Mittelstandskooperation" in Moskau am 12. Dezember 2006.
Dr. Joachim Richter, CEO von Project Finance International leitete im Auftrag des Ost-Ausschuß und des ZVEI das Wirtschaftsforum Infrastruktur und Energietechnik.
… click here to read the full article.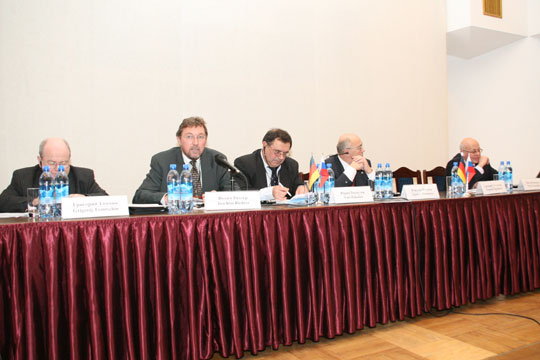 Project Finance International at the "Deutschen Weltbank Forum" 2006 in Hamburg
A Pre Conference Workshop "How to do Business with the World Bank" was organized by PFI. International Experts presented papers about Project Cycle, Procurement Issues and Project Development Procedures.
The '8th German World Bank Forum', an event of global significance, was arranged by the Hamburg Chamber of Commerce in co-operation with the Senate of the Free and Hanseatic City of Hamburg on 1 to 2 June. High ranking decision takers and experts from the Middle East, who cannot all be mentioned here by name, discussed the conference topic "Germany and the Middle East: Opportunities and Challenges" with German and other European participants.
… click here to read the full article.