Financing without hedging through Government-owned export guarantee-agencies is the exception rather than the rule in today's international financing business, since without such guarantees many projects, particularly those in high-risk countries would not be undertaken.
PFI will purposefully guide her client  through the "jungle"of HERMES/ECA – rules and regulations.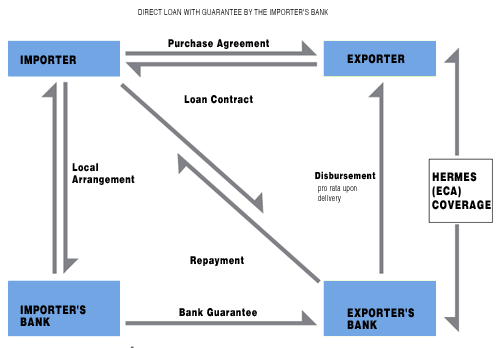 "Cash is King": Availability of extra liquidity by selling receivables from foreign clients to a specialized bank  This should be set in place before closing a contracts and have this included in  business contracts.
Depending on the type of project non-recourse export financing could be an ideal solution for a reduced financing scheme.
PFI offers all the necessary assistance in optimizing and selecting guarantees and letter of credits and related securing.
In detail, PFI offers:
Analyzing the risk of your overseas projects and reviewing their chances for financing
Selection of the appropriate financing and securing option; proper structuring of the financing plan
Support in designing of payment conditions and other needs-based contractual agreements
Support in the negotiations with  HERMES/ECAs and banks
Supervision of financing related project implementation (HERMES-application, declarations of commitments, Exporter guarantee, letter of credits, general guarantees etc.)